[Top]
[Up]
[Prev]
[Next]
Day Three
El Paso, Texas to Austin, Texas
Well, we wake up on the third day, and the wind and dust are gone. We go out to the airport and push Mikey out of his hangar, fuel it up, and load our baggage. By now we're getting pretty good at the routine, and it doesn't take us long at all to be ready to take off. We're in the air at 9:20.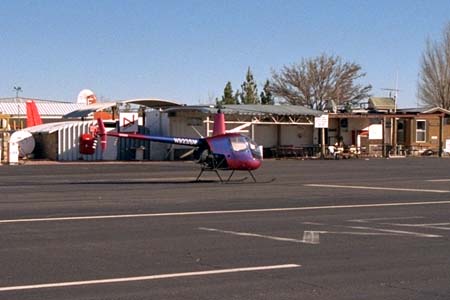 After a while we come to Sierra Blanca Pass. The next two pictures show the pass from a distance. We could see that the terrain sloped up, and we didn't want to arrive at the pass too low to make it through, but it turned out that the pass isn't that high anyway.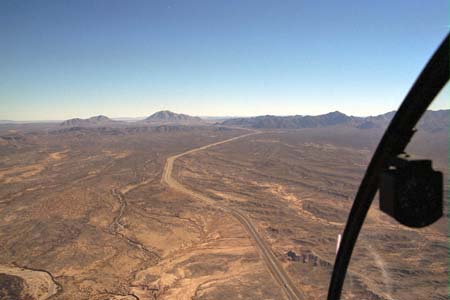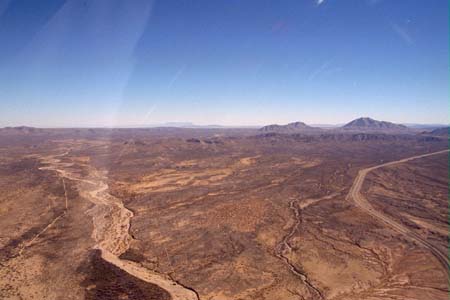 Here we are just going through the pass: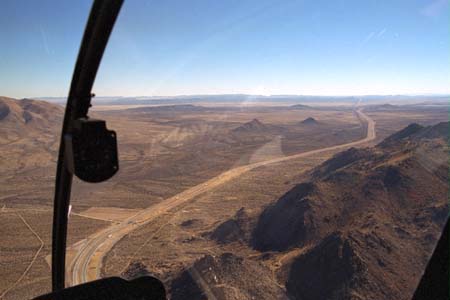 Just a few miles past the pass is Van Horn, our next fuel stop: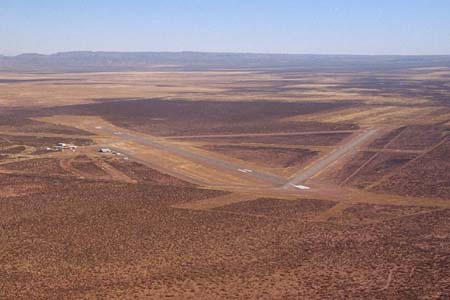 This airport was unique in that we called Unicom a few miles out to make sure they had fuel (if they were out, we wouldn't waste 10 minutes of fuel landing and taking off again). The reply came that they had fuel, so we planned on landing. The strength of the radio signal was quite low, however. Sure enough, just about the time we landed, a car drove into the airport to pump the gas. I think he was in town when we called, and used a portable to tell us to land. Then he must have driven like crazy to get there almost as soon as we did.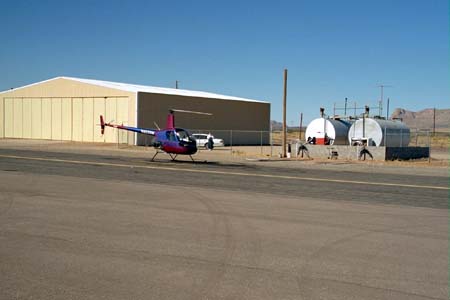 We landed at Van Horn at 10:30, and were in the air again by 10:50. We're getting better at the routine. For me, it's make a note of the landing time, put fuel in the helicopter and note the gallons (it was 11.2 gallons of gas and 1 quart of oil at Van Horn), grap the camera and take a picture of the aircraft while the other pilot is paying the fuel bill, and then get ready for departure.
Back into the air, and land at Fort Stockton an hour and 10 minutes later at 12:00. Now, I can fly all day without eating. I'm a one meal a day sort of person. I get hungry, but I can operate okay just on dinner. However, the other pilot wanted food. The woman selling us gas tells us there's a diner next door at the golf course, but we better hurry before they close. So we wander over only to find out it's the cooks day off. However, there's a MacDonalds just a mile away. We decide to go there.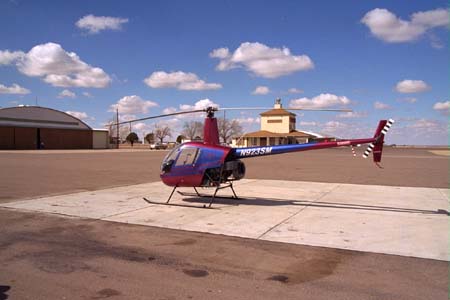 We make the mistake of asking about a courtesy car (lots of FBOs will loan you a car for short periods of time for no charge. You borrow the car and usually put some gas in it for the next guy). We had heard a rumor of an old Volkswagon Beetle at Fort Stockton. In fact, we had been warned that it only started by being pushed. The woman tells us sure she has a courtesy car, and she disappears. Well, we talk to the pilot of N79934, a Cessna who's been having trouble getting back to Georgia. She's very pleasant, and we talk a bit before she excuses herself to go out and depart. Meanwhile, we're still waiting. It's been like 30 minutes and we're getting anxious. I look around the building, but I can't find the woman anywhere. I'm trying to convince the other pilot that we should just fly over to MacDonalds rather than wait and wait and wait. Finally, the woman shows up with this car:
Apparently she's been working on it all this time just to get it running, so I'm not about to turn down the offer now, but wow, what a car. I'm afraid to stall it because I haven't driven a Beetle in 20 years, and I'm not even sure this one will start again. If you push hard on the gas, it almost stalls, but if you don't it also almost stalls. It's a major effort to drive a mile to MacDonalds. I finally get around to testing the brakes and discover that it has brakes. Well, sort of :-)
Anyway, we grab some food at the drive thru and head back to the airport before the demon courtesy car can stall and leave us stranded a mile from the airport. I drive it back into it's hangar and we hop into Mikey and we're off, after only 2.5 hours on the ground. :-(
Fort Stockton from the air: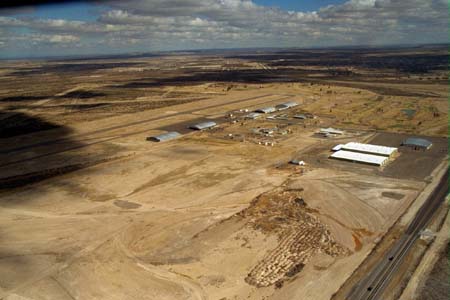 Our next fuel stop is Sonora. We set a new record here, spending only 10 minutes on the ground. I'm rushing, because it's now 3:45pm, cloudy, getting on toward sunset, and Austin, our destination, is still two legs away.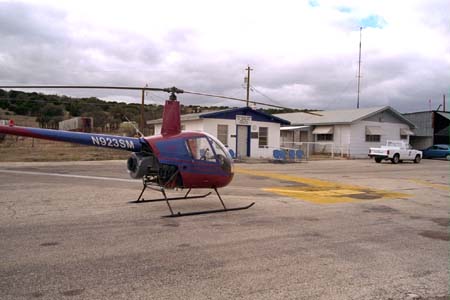 I did get hit in the face by the drinking fountain at Sonora. I think it's one of those that the locals rig to shoot five feet in the air so a stranger like myself will put his face a couple inches above it and hit the lever. Sure enough, splat right in the face. Anyway, we're in the air at 3:55 having taken on 13.8 gallons of 100LL.
We pit stop at Fredricksburg at 5:09pm: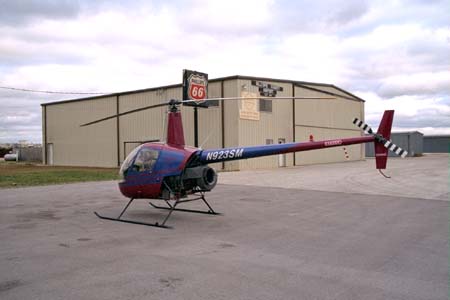 and we're off to Austin. As we approach Austin, we see the first green grass that we've seen since the Banning Pass in California. We got into Austin just as the sun set, at 6:13pm.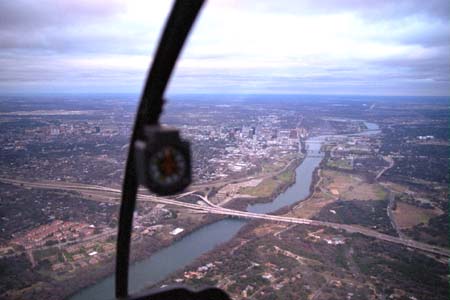 We park at another Signature FBO and put Mikey away for the night next to a JetRanger. We have dinner (Mexican again) and go back to the hotel. I'm not really ready to go to sleep, so I drive to downtown Austin. It turns out that they're having a Mardi Gras night. The police have several blocks of downtown blocked off to automobile traffic. All the college students are having a great time. I wander around a bit and finally decide to visit the Austin version of a Cowboy bar. I wasn't that impressed with the Cowboys (they were just like drunk college guys everywhere) but the Cowgirls... Wow!. Maybe Texas isn't so bad after all...
---
Paul Cantrell paul at copters.com (replace " at " with "@" to email me - this avoids SPAMMERS I hope)