[Top]
[Up]
[Prev]
[Next]
Day Four
Austin, Texas to Houston, Texas
It turns out that the other pilot has an old friend she wants to meet this morning, so we decide to meet at the airport at 11:00am. I've been sick with a bad cough since the trip started, so I decide to use the morning to go get some antibiotics. I spend a couple hours at the local hospital emergency room, and get some medicine, then I head to the airport. We get into the air at 12:00.

This is the first leg of the trip where we don't follow roads. My rule is that I either follow roads so I can land and get help, or we file a flight plan. So far we haven't been filing flight plans. But there isn't a big road direct from where we are to where we want to be, so I air file a flight plan (which the FSS sort of complains about - they prefer you do it by telephone) and we take off for Houston. Along the way, we see these giant flock of birds - geese we think... There were 3 flocks I saw, all at least this big: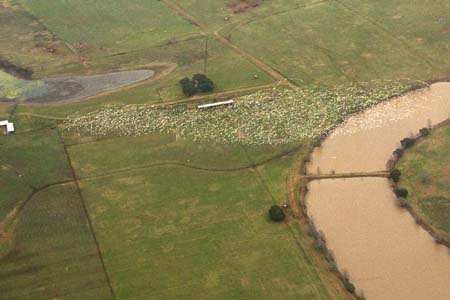 We seem to have almost enough fuel to go to our destination, but it would be close, and with the occasional high fuel consumption we're seeing, we decide to stop at Sugarland airport. Besides, we're missing a Houston TCA chart, and I called on the telephone - they have one.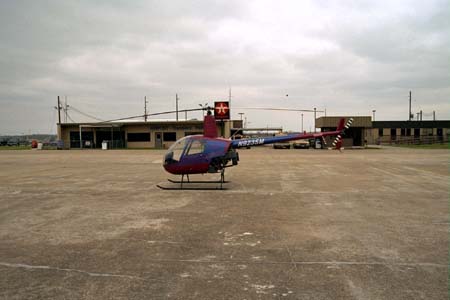 One of the interesting things at Sugarland is that they have a non-Federal control tower. Now, we have these back east, but they're usually a normal control tower staffed by contractors instead of regular FAA employees. In fact, the ones I've met have all been ex-PATCO controllers fired by Ronald Regan. This situation seems to be a little different. We were talking to tower, but it took us a while to spot it: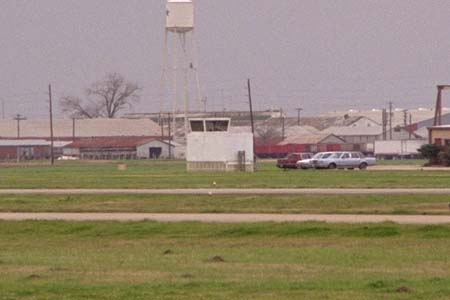 We land at 1:30pm, buy our fuel and our chart, and head off for Elington field, which is the airport closest to NASA in Houston. Arriving at Elington, we have a hard time convincing the FBO to let us hangar the helicopter overnight. It turns out that they rent out half of their hangar to a maintenance company, so they don't have that much room. With some pleading they finally agree. We rent a car, find a hotel room and then go visit NASA.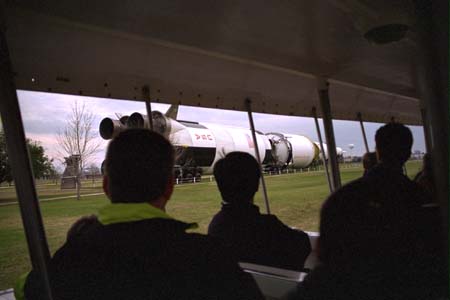 I have to say, I wasn't at all impressed by NASA. On the one hand, we had a tour of the facility which was totally uninhabited because it was a Saturday. It was still interesting to ride around in the little tram and visit some of the buildings, like Mission Control. The part that I really didn't like was the main tourist facility: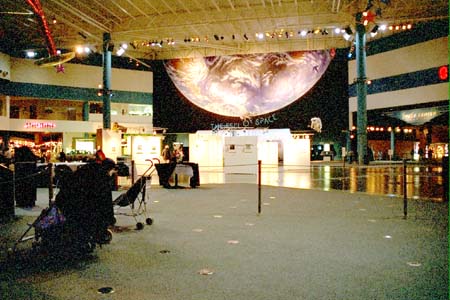 Part of what turned me off was the commercialization of this place. But I can understand that they're probably taking funds from commercial companies who want some advertising as part of the deal. The part I couldn't stand, however, was entering the "Mission Briefing" theater.
It started with a cheap animatronic robot that looked like a cast-off from an old "Battlestar Galactica" series. The "robot" gives a little science-fiction talk. I like science fiction, but this was terrible. It made no sense at all. It was just a goofey few minutes of what someone must have thought was impressive techno-jargon. It was embarrassing. But what really upset me was, I didn't see how kids were going to tell that this was fiction. It was presented the same was as the other stuff in this facility, so if you didn't know better, why would you doubt that this was real? After all, this is NASA! Here we are with actual spacesuits and some space hardware in one room, and we're about to go into a "briefing" about the next Shuttle mission, and this animatronic moron is spouting nonsense to the visitors (and you have to listen, because the doors don't open until the speal is done). I have to admit, I think NASA is confusing a lot of people, not all of them kids. NASA: let that stuff happen in Disneyland, but keep the space center at Houston factual, please... It's pretty sad when NASA doesn't think what they're doing is interesting enough to stand on it's own two feet without jazzing it up with a little science fiction.
Finally, I stayed in this Holiday Inn in a room that smelled terrible. The other pilot's room smelled just as bad, so I figured the entire floor was probably that way. Maybe the entire hotel. If you stay in the Holiday Inn just down the street from NASA, tell them you want to smell the room before you accept it.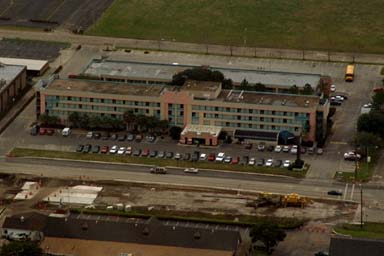 I guess you can tell I wasn't impressed by Houston...
---
Paul Cantrell paul at copters.com (replace " at " with "@" to email me - this avoids SPAMMERS I hope)